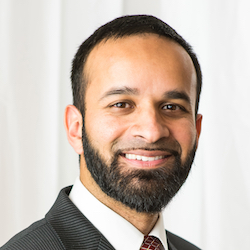 Umer Khan
Web Site:
www.umerkhan.com
E-mail Address:
LinkedIn Profile
Facebook Page
BIO
Umer Khan is the Chief Information Officer and Chief Information Security Officer at MaxLinear, one of the world's top fabless semiconductor companies. His role is to scale up global business applications, engineering systems, IT infrastructure, and security to support organic growth and acquisitions. Umer was previously Vice President of Information Technology and Security at SpaceX, a company that designs, manufactures, and launches the world's most advanced rockets and spacecraft. His team was tasked with delivering technology and providing security to enable a business comprised of rocket scientists and engineers, full-scale USA-based manufacturing, and mission-critical launch, control, and recovery. Umer is also a partner of Mentors Fund, a seed stage venture fund investing in tech startups transforming traditional verticals.
Umer has served as an author, editor, and reviewer for several technical publications related to networking, security, and UNIX, and his Cisco Security Specialist's Guide to PIX Firewalls book became a best-seller in the industry. He holds 30+ professional certifications and has filed for three US patents.
Umer received a Bachelor's in Computer Engineering from Illinois Tech, and a Master's in Information Security Engineering from SANS. He completed his MBA from the Wharton School of the University of Pennsylvania with highest honors as a Palmer Scholar (top 5% of the class).